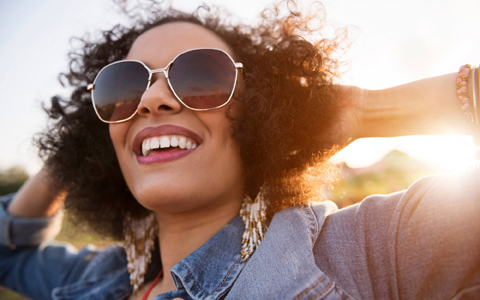 Veneers really are a wonder. If you are dissatisfied with the look of your teeth, veneers can almost totally change the cosmetics of your smile. They can very quickly give you the look of:
Whiter teeth.
Straight, even rows of teeth.
Teeth with no gaps in between.
Flawless teeth without chips or stains.
Teeth that are just the right beautiful shape.
Teeth with no cracks, discoloration, or other flaws.
We love to help individuals and families have healthy, clean teeth above all. But when you want a fast way to get more beautiful teeth, veneers can give surprisingly quick and effective results.
What Are Dental Veneers?
A veneer is a thin shell of porcelain or composite material that we can bond to the front of a tooth. The veneer covers the tooth and makes it look better.
In other words, instead of seeing your natural tooth material, people will see a material that looks like a real tooth but is:
Whiter.
Unblemished.
Shaped just the way you want.
That means you can quickly get the shapes, colors, and undamaged surfaces you've always wanted in your smile. You can get the ideal look without costly repairs.
What Are the Benefits of Veneers?
Sometimes, to truly fix every flaw in a smile would cost a lot of money and take a lot of time. When you've suffered damage to your teeth but they still work fine, you might just need veneers to make them look great.
A beautiful smile can help you:
Connect with people better.
Feel more confident.
Find more success.
Socialize more.
Veneers can also save you money. If you're not ready to use the time or money to actually move or alter your teeth, you can make them look straighter and more beautiful with veneers.
Contact Hunsaker Dental for Beautiful Veneers
If you want a dazzling smile, you can quickly go through the veneers process. We'll bring you in for a cleaning and then take impressions of your teeth. We'll create your veneers and then meet again to bond them to your teeth. With regular cleaning, they can look great for many years.
Call Hunsaker Dental today for an appointment. With veneers, you can have a surprising, enviable smile in just a couple of appointments!