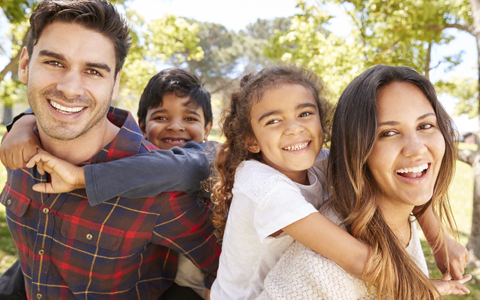 What do crowns and bridges do? They can restore a damaged tooth or even a missing tooth. The goal with any crown or bridge is to make you confident that your smile looks great again.
A crown or bridge could be the answer to your current dental challenge. Call Hunsaker Dental, and tell us about your needs. We'll let you know how we can help.
Our mission is to give complete dental care with a gentle touch to our neighbors around Rock Springs. If crowns or bridges are the right option for you, we'll guide you through the process and keep you comfortable in our office.
What Is a Dental Crown?
A crown is a more advanced cousin of a filling. Instead of placing a material in your tooth, we use a crown to cover and strengthen a tooth with a new tooth cap.
When is a crown needed? A crown is used to:
Protect and restore a tooth that is cracked, decayed, or broken.
Reinforce a tooth after a root canal.
Replace a missing tooth by attaching it to an implant.
Cover and improve the look of a tooth for cosmetic reasons.
We work with trusted, experienced laboratories that make traditional porcelain or gold crowns. Your new crown can match the color and shape of your other teeth to blend in beautifully, or it can be made completely of gold.
What Is a Dental Bridge?
A bridge is a way to replace a missing tooth. It can be easier and quicker than getting a dental implant. With a bridge, no implant is placed in your jawbone, so you don't need as much healing and recovery time.
What does a bridge look like? It often looks like three teeth in a row. That's because it's made out of:
Crowns attached to teeth on both sides of the empty tooth socket.
A new crown between them resting gently in the socket to replace your missing tooth.
If you have a missing tooth, we can prepare the teeth on both sides of it and have your bridge created quickly. You'll come back in and have your beautiful smile restored as soon as we can make it happen. Get your confident smile back!
Call Hunsaker Dental for a Restored Smile
We're excited to fix and strengthen your teeth or restore a missing tooth. Crowns and bridges offer dramatic results that can quickly boost your confidence in your smile. Let's get started! Call Hunsaker Dental today.